Introduction:
By 1981 the Golf GTi became increasingly under threat as the hot hatch leader from competitors such as the Renault 5 Alpine, the Ford Escort XR3 and Vauxhall Chevette HS. VAG France requested more power from the GTi to stay in front and met the engineers in Wolfsburg to find a solution. The 1.8 engine was still a year away, the 16V even earlier in development and turbo conversions had proved unreliable. VW informed the only solution was from a company called Oettinger who had a 16V engine ready. Official authorisation was given and on 1st October 1981 the newly born GTi 16S ("S" for soupape the French for valve) became available in the VW range, but only in France and Switzerland at a price of 75,000 Francs (around £7,500). Only between 1200 and 2000 were built during just over a year. The standard GTi was shipped from Wolfsburg to Oettinger who carried out the conversion which consisted of hundreds of specialist parts. The 16S was only available in 2 colours Alpine White and Black Metallic. Black Metallic was unique to this model (not to be confused with Anthracite Metallic found on the standard GTi).
Performance:
Top Speed 195km/h (121mph), 0-100km/h: 7.6s
OET 103R retains all of those original specialist parts, unique to the 16S:
Oettinger Engine
- Max Power: 136bhp at 6500rpm, Max Torque: 160Nm at 5500rpm
- Max Engine Speed: 7500rpm, Capacity: 1588cc
- Compression Ratio: 10.5:1
- Description: Double over head cams, 4 valves per cylinder in 240 V, 30mm inlet and 27mm exhaust valves, specific inlet manifold (with equal length runners) and exhaust manifold, 79.5 mm bore x 80mm stroke, Mahle pistons, balanced crankshaft and flywheel, 2-piece oil sump with windage tray, Bosch K-Jetronic fuel injection (note different location of components), specific distributor, alternator pulley, brackets, etc
- Each engine is individually marked on the cylinder head cover, cylinder head and cylinder block which is a modified EG one.
Clutch and Gearbox
- Reinforced clutch to cope with additional power
- Type FP gearbox with reinforced syncros on 2nd, 3rd and 5th gears and 4,17 final drive (for increased performance)
Chassis and Brakes
- ATS 6"x14" alloy wheels with Uniroyal 185/60 R14 tyres
- Oettinger lower strut brace
- Valeo F562 brake pads, Bendix 2000 DOT 5 brake fluid
Body
- Exterior colour Black Metallic (LP9V)
- VIN plate with Type 17 (not 17EG2, etc)
- Production sticker showing option code 733 for 16S model and FP gearbox code
- BBS bodykit (front spoiler, sill and arch extensions) in body colour
- Unique front grille (without red grille trim) to house Cibie spot lamps containing yellow filter
- Additional sound insulation under boot mat
Instruments
- Oettinger instrument cluster containing 240km/h speedometer and 8000rpm rev counter
- Oil pressure gauge in centre console
Badging
- "GTI 16S" grille badge with white script
- "Golf GTI 16S" rear badge with white script
- "16 SOUPAPES" front wing transfers
- "GTI 16S" badge on steering wheel
OET 103R comes with complete service history (mostly VW) and full file of receipts from VW. I even have the original Type Approval document – a rarity in itself!
I bought the car some years ago and carried out the necessary work to get an MOT. The rear brakes were renewed due to seized rear cylinders, the front wiring loom was replaced to solve a few electrical bugs, and a full service carried out including timing belt and tensioner (the timing belt must be changed every 30,000 kms). The injector seals were leaking badly so these have been replaced too. I still need to replace the spark plugs as access is a nightmare. There is only between 1-2mm gap around the plugs to the head. A special tool is available from Oettinger but I will turn down a plug spanner instead. The spark plugs are a bit special - they are Champion racing plugs fitted to only one other production car, a Ferrari F40. The prices from Oettinger are crazy and I imagine from Ferrari too, but walking into a Ferrari dealer to ask for only 4 plugs would have been amusing!
Emptying the fuel filter and the WUR showed a sand/grit mixture in the fuel. My suspicion is the French fuel quality is not up to UK standards and fuel turnover at village pumps is not that high. Whilst the car had been stood for a long period a lot of this sand/grit sediment has dropped to the bottom of the tank around the pick up pipe area.
My solution was to drop the tank and have a look around. Axle was dropped, exhaust removed (I need to replace centre and rear sections anyway) and tank finally removed.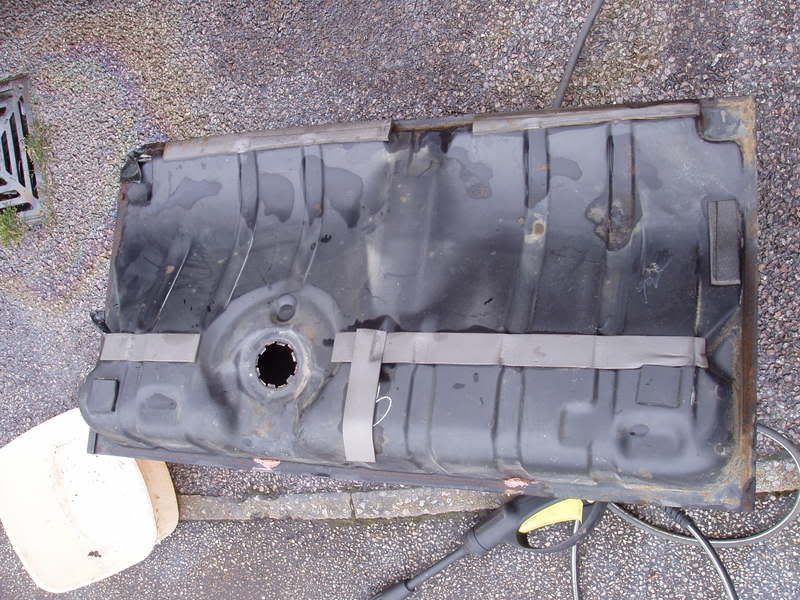 Tank was flushed and content checked. A lot more of the sand/grit was found in the tank. Luckily very little rust and my filler neck is mint.
Tank was then stripped of foam, exhaust shield, etc then degreased, wire brushed to remove any rust spots and previous underseal and jet washed inside and out to get rid of any dirt. It was then left in my airing cupboard for 2 months to dry! I could then hoover up any remaining dirt using a long flexible tube. Next step was to Metal Ready the tank which both etches the tank for paint and applies a zinc coating. Finally the tank was painted with two coats of POR15, IMO the best rust preventative coating around. This stuff does not come off (including your hands), is chip resistant and gives a great finish.
Tank (including exhaust shield) painted and foam replaced: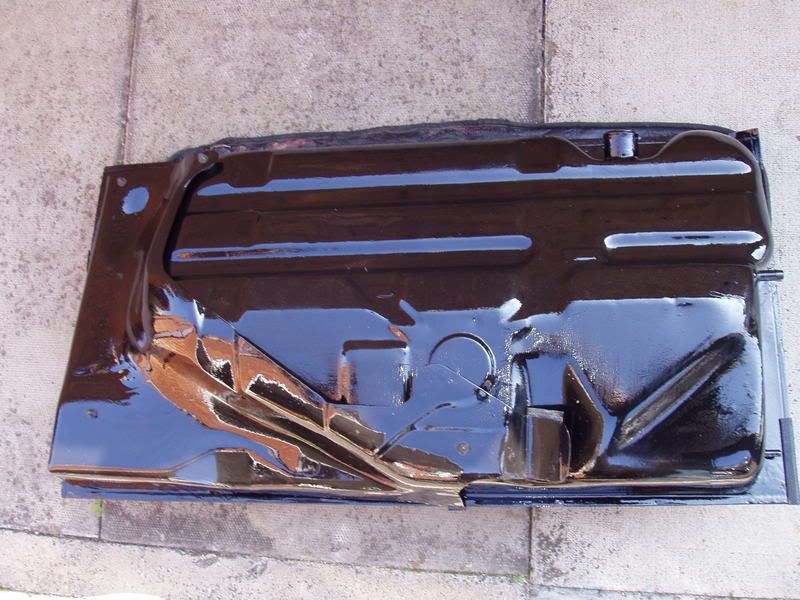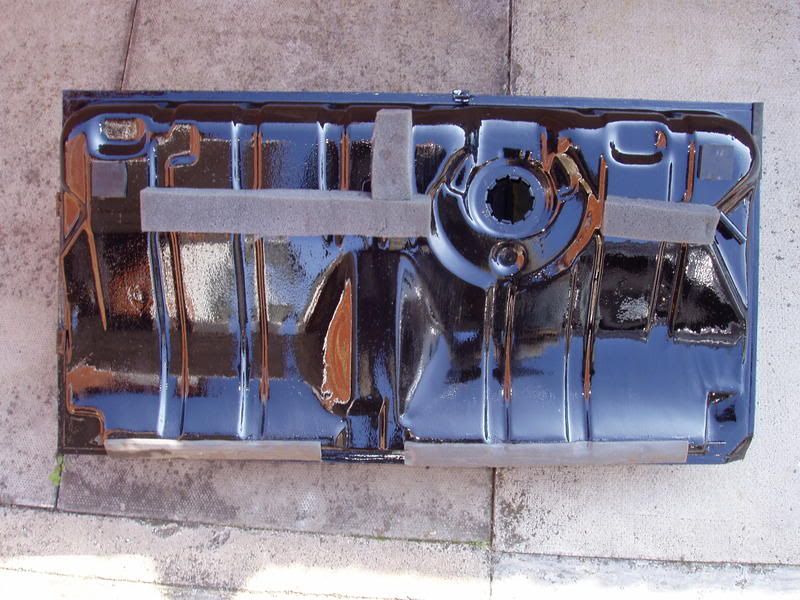 The tank filter and sender unit were replaced with VW items. Whilst I was at it I also painted the tank straps, rear spring top caps (rear shocks replaced with Boge Gas Turbos) and also the car under chassis. The car is already superb underneath and well undersealed. Only a tiny crack required a little welding while I had the axle off.
Underside zinc'd and POR15'd: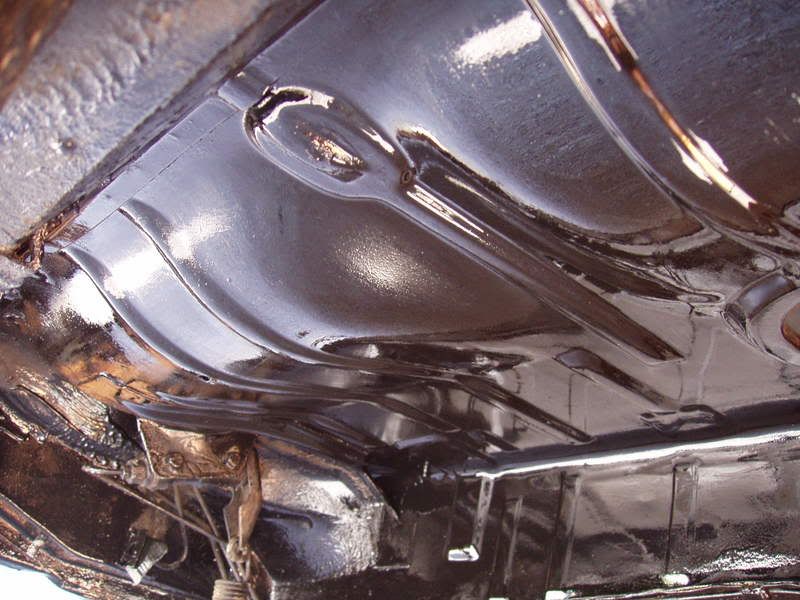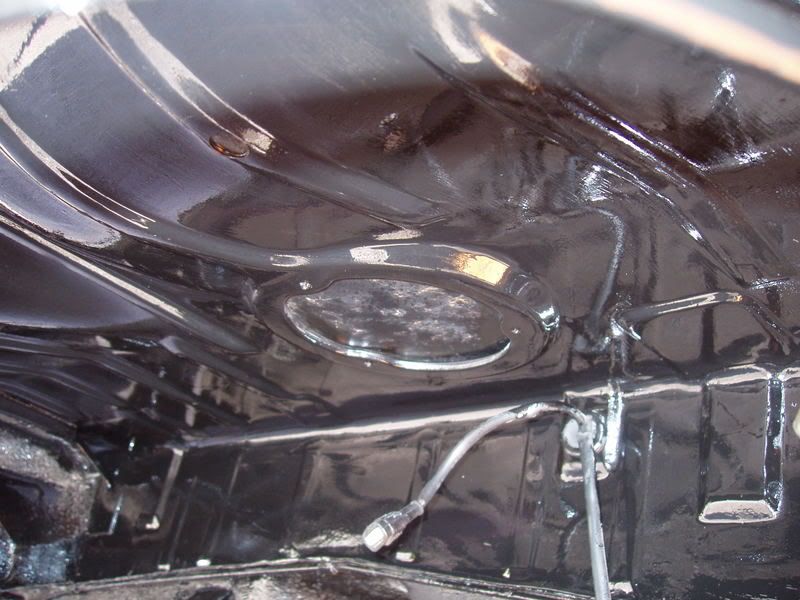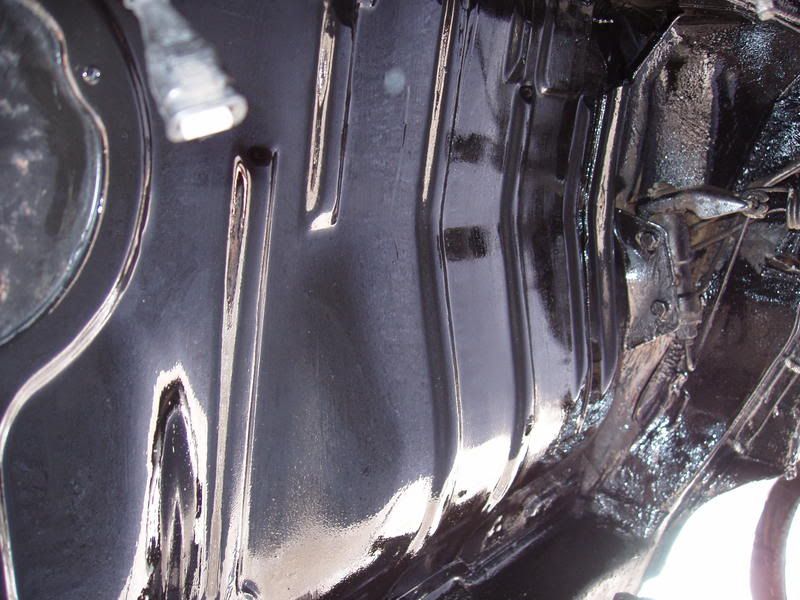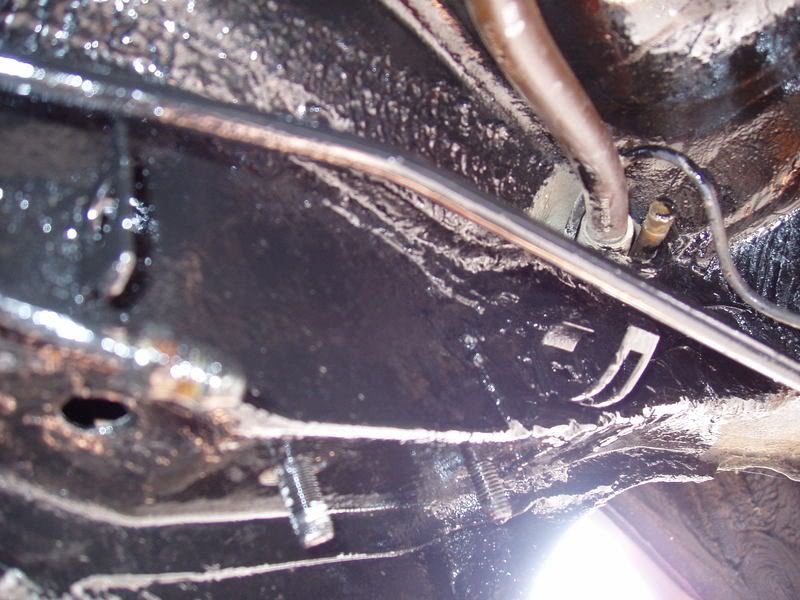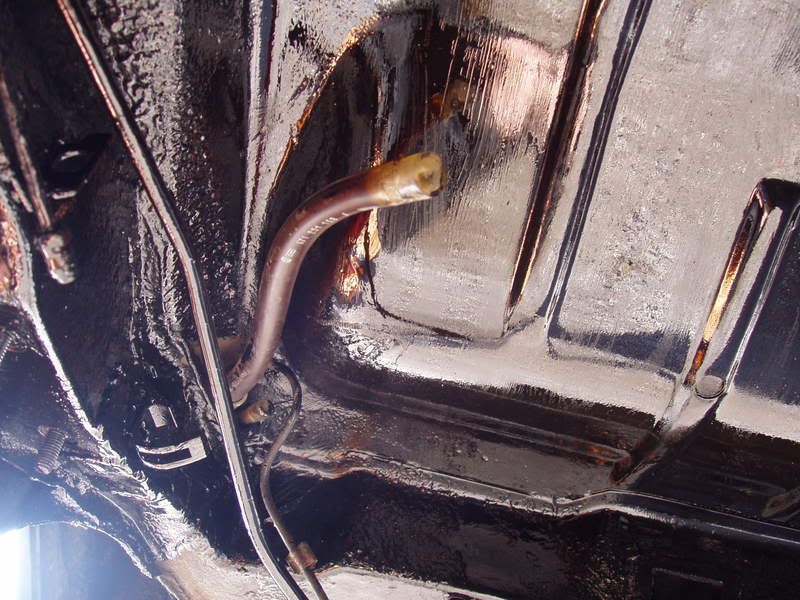 The fuel pump, check valve and accumulator were removed, cleaned and all lines blown through with compressed air. The accumulator-supply pig tail line was replaced with a new one from VW (last one available).
Tank, fuel pump, accumulator, rear struts, new rear brake flexis all replaced.
Tank, pump and accumulator back in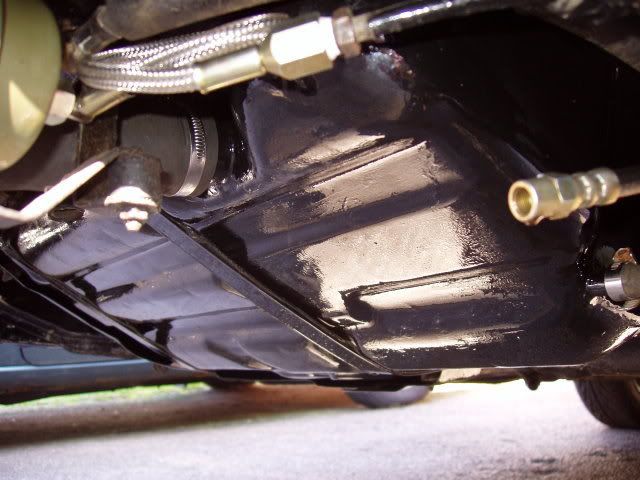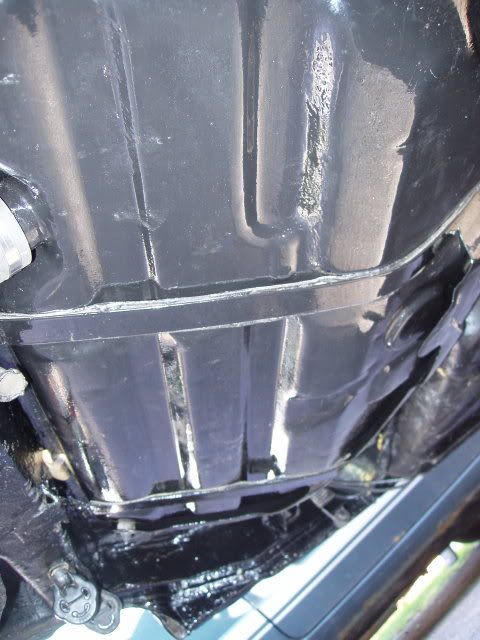 Struts assembled with new shocks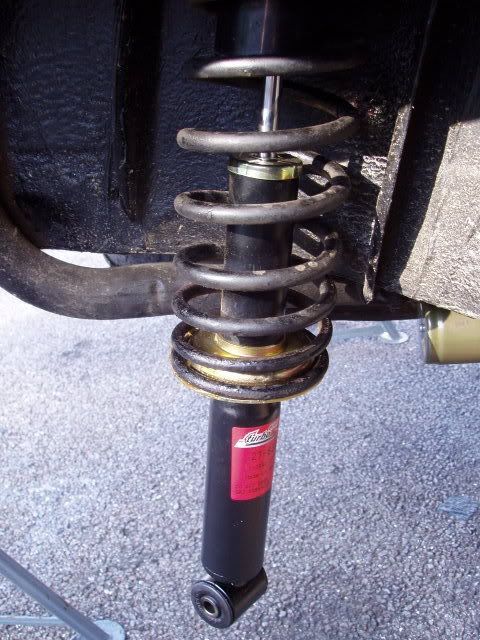 Rear axle about to go in
Well no chance to get the injectors out with the inlet manifold on so off it came. Was a real pig, difficult access to bolts through the manifold and the bottom ones sit right against the casting. Ended up having to cut the head off one with the trusty Dremel.
Manifold off with face cleaned up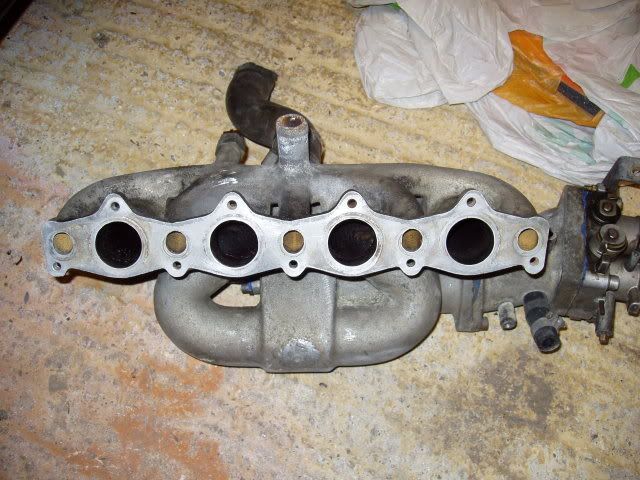 New O rings from Oettinger in place. Note the manifold is water cooled.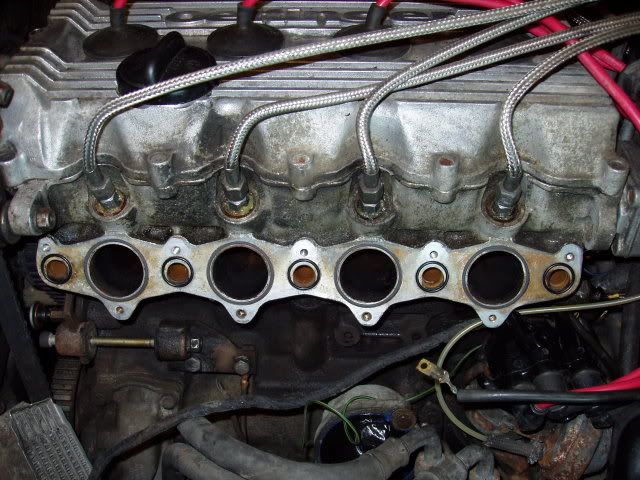 Also put on a new crankcase breather (as used on small block Golfs) with gasket blue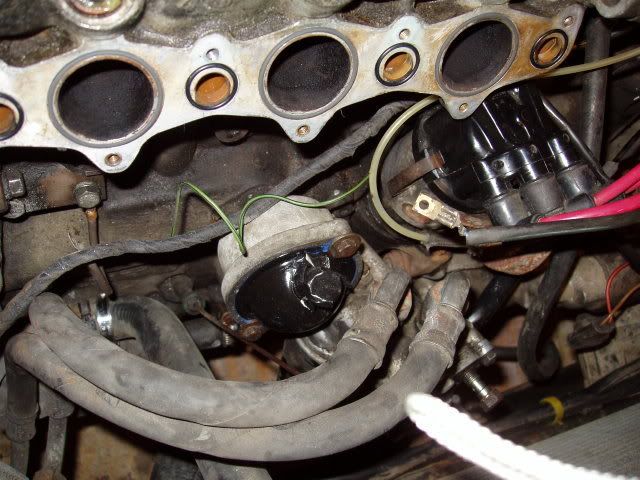 New parts fitted:
New Champion G63 spark plugs. These are the OE plugs and are much smaller than 8V ones. Only ever fitted to the 16S and Ferrari F40. Plug gap is 0.5mm. Managed to source 3 sets at a decent price, as they need to be replaced every 15,000kms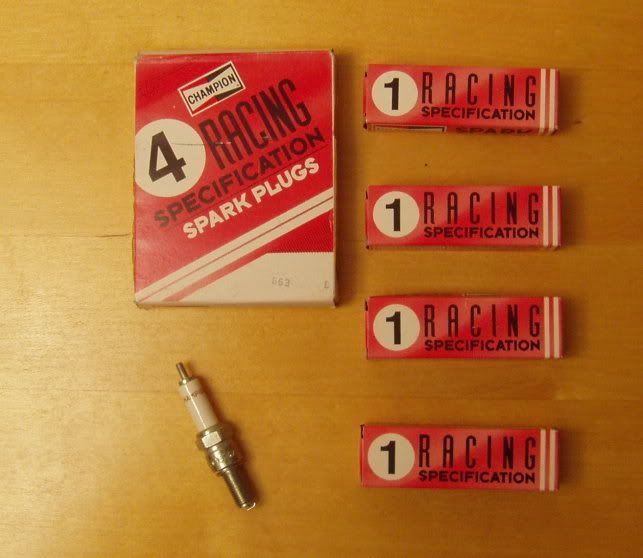 They need to be fitted with an extremely thin wall plug socket, Oettinger can supply the special tool but a cheaper solution is Facom BJ16A2. I considered turning down a plug spanner but if it went wrong and cracked whilst undoing a plug it might get stuck in the head. Plus the Facom tool has a nice rubber insert so no worries with grappling down the deep recess.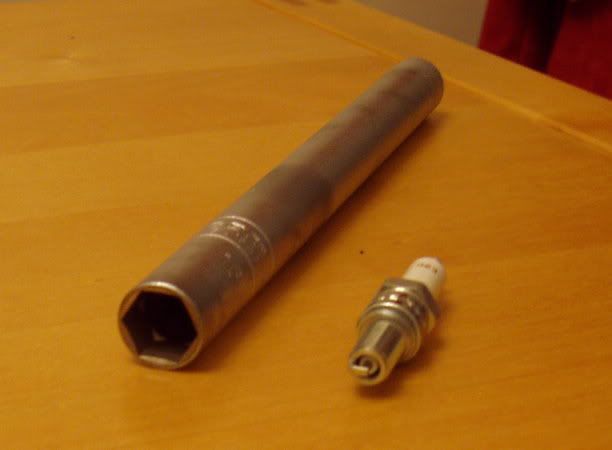 New spark plug extenders from Bosch. The correct reference is 0356100030.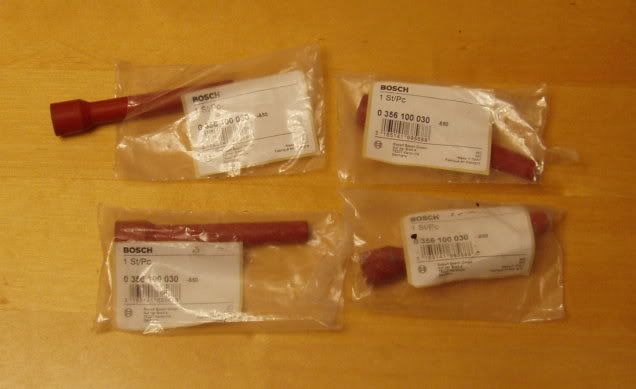 New inlet manifold O-rings (seen in previous pics) and gasket between manifold sections from Oettinger. New tank sender O-ring. New VW pump-accumulater pipe. Also fitted new VW accumulater-supply hose seen in previous pics.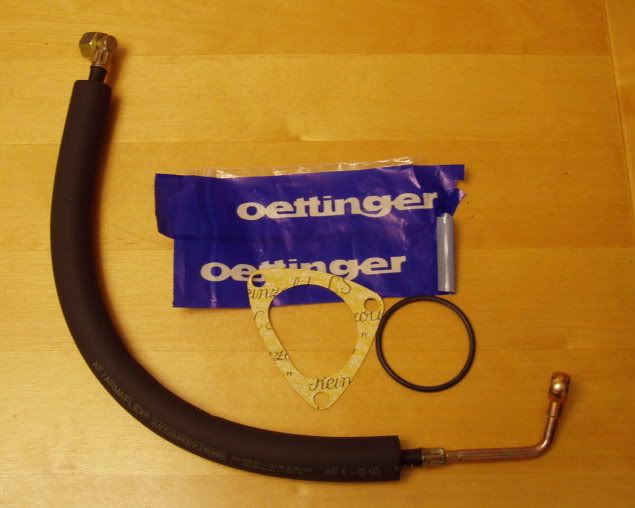 New VW fuel pump, filter and Bosch injectors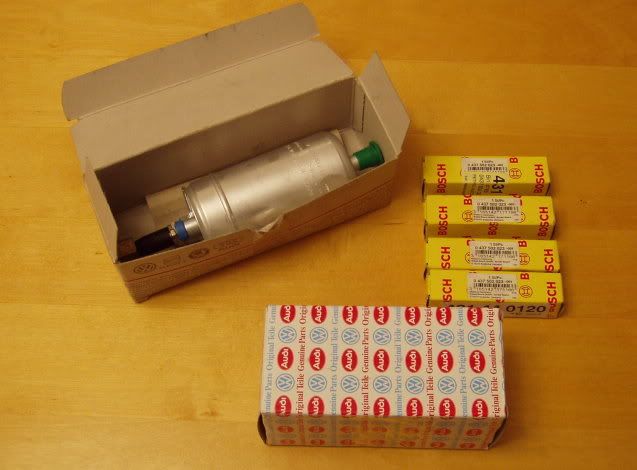 I have also fitted a new exhaust, new VW starter motor, accelerator cable and pedal bush, 16V WUR, new metering valve gasket set, water pump and thermostat, expansion tank, gear linkage relay lever.
For now I am enjoying the drive. A few short journeys down local B roads with the engine at full chat has put a broad smile on my face. There is a nice power urge right up to around 7000rpm.
The GTi 16S is a special car – the most powerful production Mk1 Golf ever built (with VW Warranty). This model is now extremely rare, especially in Black Metallic (I did not want to settle for the more common white one!) with only a handful remaining.